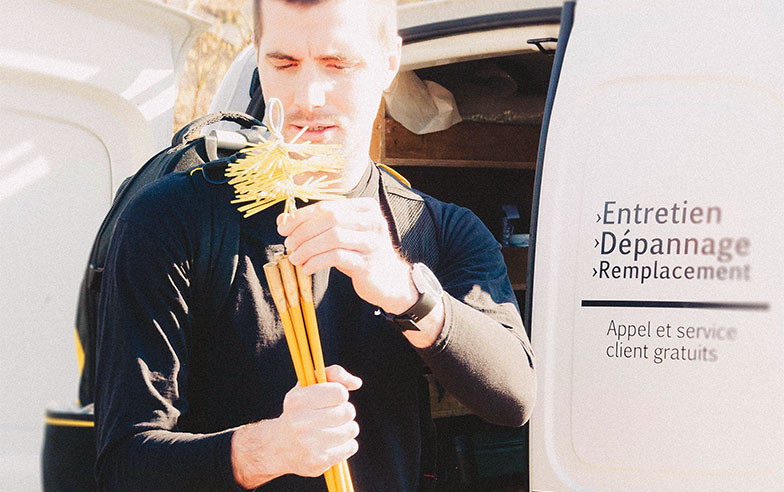 I want to have my sweeping done
While operating, a heater becomes clogged. Soot, ash and deposits accumulate in the ducts and can lead to several accidents. Sweeping removes these deposits and thus avoids the risk of fire or carbon monoxide poisoning. In addition to safety, regular sweeping has many advantages. The conduit once swept, offers a better draft. Its optimized efficiency reduces pollution generated by fumes as well as fuel consumption by 7 to 10%.
We sweep the flue of your boiler(1)
At the price of €90 including tax (2) for sweeping only or €49 including tax in addition to the maintenance of your boiler on the same day with the advantage of having only one appointment for these two services. (see below "Think about it!")
For more details, contact us at 09 81 11 97 57 (non-surcharged call). We will answer your questions and the need for mandatory annual sweeping.
(1) Sweeping possible subject to accessibility and without non-compliance according to the rules governed by the gas regulations on the connection ducts and chimneys of combustion appliances. For more information contact our customer service.
(2) Travel and intervention included in the offer with delivery of the sweeping certificate.
To know :
When the operation is completed, our technician will issue a sweeping certificate to the occupant or owner. This document certifies that the sweeping has been carried out. It must be carefully kept until the next sweep. In particular, it may be useful to you vis-à-vis your insurer in the event of a claim due to a fire in your home.
Think about it!
The sweeping of your flue, when necessary, can be offered as an option with the contract or the GAS boiler maintenance package and thus benefit from a preferential rate of €49 including tax instead of €90 including tax for a sweeping alone.
Sweeping is mandatory for safety reasons in the legal texts(1) and in the event of a claim, your insurer will ask you for the sweeping certificate, a duplicate of which we also keep.
Mechanical sweeping and checking the flue are essential for your safety, because an obstructed or leaky flue can be the cause of carbon monoxide poisoning.
(1) Provisions of article 31.6 of the standard Departmental health regulations included in each department by prefectural decree.